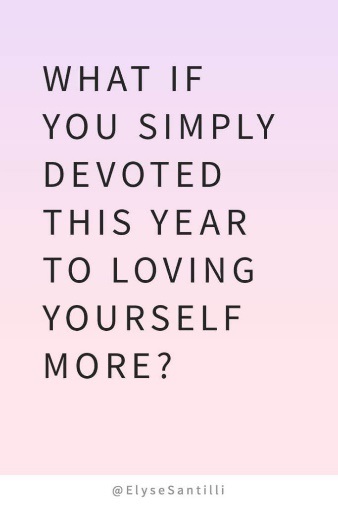 February is the month of love. With Valentine's Day marking the middle of the month, there is a lot of focus on romantic love. More recently, Galentine's Day has also become a popular day to focus on our female friendships. But during this month of love, there is no focus on self-love, which is probably the most important love.
Two years ago in February I was in a very different place than I am now – not only physically (I was living in the Bay Area in CA) but also emotionally. As my husband and I planned a delayed honeymoon road trip, I found myself sinking into a depression. The days were gray and I struggled to feel functional. Looking back on it is difficult and if you have never been through depression, you can read about my experience here. I eventually pulled out of it, with the help of a licensed therapist and the love and support of my family and friends. In the process of healing myself, I learned about the importance of self-love and self-compassion, both essential to personal growth and establishing happy, healthy relationships.
I learned that loving myself does not mean having an ego that is so big that it won't fit through the door. But it does mean that when I accomplish something, it's okay to acknowledge it and feel proud. It doesn't mean shutting out relationships (or the pursuit of a romantic partner) but it does mean being comfortable in your skin, enjoying your own company. It also means recognizing when someone else didn't receive unconditional love (and therefore cannot give it) and setting boundaries to protect yourself.
It means standing up for yourself as you would for a friend because you care about yourself that much. It means giving yourself a break when you have messed up. It means recognizing that you are not perfect and forgiving or accepting that about yourself, as you would when someone you love messes up. It means taking care of yourself so that you can take care of those that you love. It means not comparing yourself to your colleague or your friend because no two people are the same. What weaknesses they may have may be your strengths and vice versa, so focus on your own strengths. One thing my therapist would say to me, when I would tell her some of the negative thoughts running through my mind is, "Would you say that to your best friend? Would you tell your best friend that she's an awful aunt because she didn't know how to talk to her teenage niece?"
So, this February, while you are showering love on your boyfriends, girlfriends, spouses, partners, remember to take some time to practice self-love. Give yourself permission to sleep a little longer, take time for yourself – make a date night with yourself, start each day in February (or what's remaining of it) by telling yourself something really positive about yourself, and forgive yourself.
Need a little more convincing to take time to love yourself? Here are some quotes for inspiration.
"You yourself, as much as anybody in the entire universe, deserve your love and affection." ~Buddha
"Talk to yourself like someone you love." ~Brené Brown
"What lies behind us and what lies before us are tiny matters compared to what lies within us." ~Ralph Waldo Emerson
"The more you praise and celebrate your life, the more there is in life to celebrate." ~Oprah Winfrey
"To be beautiful means to be yourself. You don't need to be accepted by others. You need to accept yourself." ~Thich Nhat Hanh