At InStepp, we work with women who are facing obstacles in their lives. Our clients include victims of domestic violence, sexual assault and human trafficking; women who are displaced due to separation, divorce or death; women transitioning out of prison or jail; and immigrant women who are unemployed, under-employed or victims of crimes.  Click here to view some of our Success Stories .
WOMEN TRANSITIONING OUT OF PRISON
A majority of incarcerated females will require some assistance to ensure their successful reintegration into the community.

FEMALE SURVIVORS OF DOMESTIC VIOLENCE
One in four women will be a victim of domestic violence in her lifetime. This paints a staggering picture for our local communities.

HISPANIC/LATINO IMMIGRANT WOMEN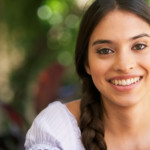 Immigrant women who are unemployed, underemployed or whose lives have been interrupted by violence often will have unique needs that make their situations even more complex and challenging.

WOMEN DISPLACED DUE TO DIVORCE, SEPARATION OR DEATH
Many families with children under the age of 18 years old that are headed by a female will have incomes at or near the federal poverty level.